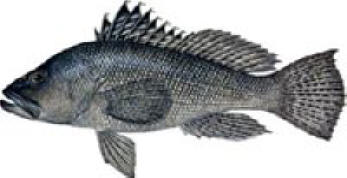 Sea Bass Centropristis striata
2023
New York State Fishing Regulations
Size: (Inches)

16 1/2 inches

Season:

See Below

Limit Per Person:

3 fish June 23 through August 31 2023

6 fish September 1st through December 31 2023

TICKETS
Sea bass, also known as black sea bass, are a mild tasting fish with a firm, white fillet that support a major fishery in New York. Sea bass are protogynous hermaphrodites meaning they are females when they are born and at three to four years of age and about 3lbs. they change sex. You can identify the dominant males by the blue bump that develops on their foreheads.

Sea bass have a range that extends from New England to Florida but they are most concentrated off Long Island and New Jersey. They can weigh upwards of five pounds but are most commonly available in the one to three pound range.

Primarily bottom dwellers, sea bass are fond of frequenting wrecks rocks and reefs. They migrate to deeper offshore waters in the fall and return to the shallower waters as they warm in the spring. We fish for sea bass with clam bait while anchored or drifting very slowly. They are often mixed with porgies and blackfish. Fishing season runs from May to December. Sea bass are easy to catch and double headers are very common when fishing is good.

Fishing Tips:

Conventional rods are usually preferred by sea bass fishermen. Monofilament line doesn't tangle as badly, but braided line lets you feel the bites a bit better. Sea bass are easy to hook. When you get a bite you can lift up 3 feet on the rod tip or just start reeling.